Adoptions (and our Adoptees)
We have no shelter, and rely totally on foster homes to house rescued cats. Our adoption program provides local cat lovers with healthy spayed or neutered pets.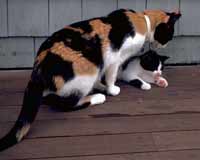 We make it a priority to take in pregnant moms, who tend to be in most need, and provide them with foster care. Before the mother or kittens are adopted out, we make sure all are spayed or neutered. The cats in our program are adopted into loving homes. We do not "euthanize" the cats in our care if they are healthy and adoptable.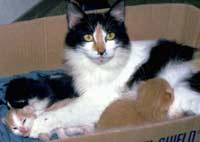 Please spay or neuter your pets, so that incidences of unwanted cats are lessened, it is a loving act toward your cat, and toward future generations.
If you are a local cat lover who can provide a loving home to a healthy pet, please consider adopting from our program. 250-656-1100 or meow.133@victoriacatrescue.com
The Victoria Cat Rescue Corps Society was founded in the late 1960s. To learn more about our history, click here.
250-656-1100
Victoria Cat Rescue Corps Adoption Program
Victoria Animal Control Services may have cats for adoption.
Please visit them at www.vacs.ca or call them at 250-414-0233